Crucible Crosses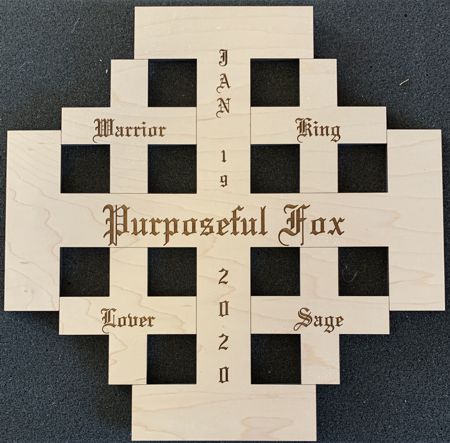 Men who have attended the Crucible Project Initial Weekend will appreciate the significance of this Jerusalem Cross. You can customize the Name, Date (the last day of the Weekend), and add other elements to the cross. Pricing is $30 for a 11.75″x11.75″ Cross or $20 for a 6″x6″ Cross. These are made from 1/4′ Maple Plywood and coated front and back with a clear spray sealant.
Inlay Cutting Boards
Our Teak Cutting Boards with Light and Dark Wood Inlays make a great decoration and even better gift. The Cutting board measures 12.25×14.5 inches and the back side is usable, should you want to have a functional cutting board. The Cutting boards start at $150 and can vary in price depending on options chosen.
Warrior of Christ Plaques
The 3D effect on this unique designed Sword and Shield makes for a great display piece. We can customize this plaque on 1/4′ Maple Plywood with Man of Faith or Woman of Faith and We can add text(name, scripture, both) to the top, bottom, or sides. This is a great gift for the Warrior of Christ in your life! The Warrior of Christ Plaques are $20 for a 7″x9″ plus $5 for customization, if desired.
Patent Prints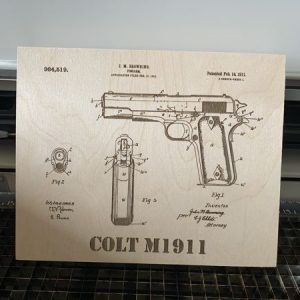 We can do patent prints of your favorite invention and put them on wood canvas, cotton canvas, slate, or leatherette. We have several options on sizes, depending on the medium chosen. Our Patent prints are $30 for Wood Canvas, Cotton Canvas, or Slate and $40 for Acrylic.
Acrylic Creations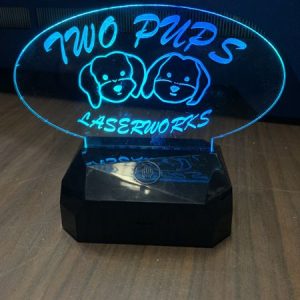 These 16 Color Remote Controlled LED bases pair well with our Acrylic engraved with your favorite images. There are great deal of options available with sizes and shapes. If you can dream it, chances are we can make it. Let us know your ideas and we'll quote you a price, but they will start at $30.
Luggage Tags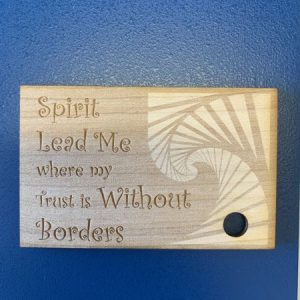 We can make custom designed luggage tags in small quantities or large as give away items, gifts, or whatever reason you can come up with. These can be made out of several different types of wood, and are two sided, with the information side on the back and a message, logo, or artwork on the front. Let us know your ideas and quantities and we'll quote you a price.
Bookmarks
We can make bookmarks out of a soft and flexible leatherette material of several different colors. Your custom design can be placed on the bookmarks for your own use, or in bulk quantities for gifts, giveaways, or other promotional uses. Give us your ideas and quantities and we'll quote you a price.
Encouragement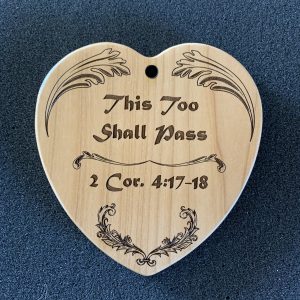 Hearts in The Window is a nationwide initiative where people show support for one another by putting hearts in their windows. We have created a solid maple heart with words of encouragement to support this initiative. These cost $15 and include shipping anywhere in the US. We also offer a 50% discount for additional Hearts in the same order.